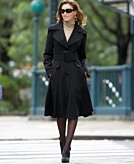 Coats!….yes, one of my favorite things about Autumn is that its time to buy myself a new coat! There's just something about wearing a smart coat that makes you feel confident and chic. Choosing a coat is tricky business coz you have to keep in mind that it has to be versatile and go with a lot of your wardrobe, it has to be suitably warm depending on the weather of the region you live in and it has to make a statement about your style! So here some of the popular designer styles to be seen in this Autumn/ Winter and some great deals on them.
Pea Coat: The Pea Coat may have begun as a nautical necessity, but these days it's a fashion must-have. This short coat is great way to ward off the chill.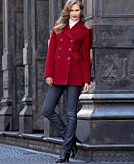 Kenneth Cole Refined Wool Pea Coat-The classic peacoat, with a tailored fit, feminine details and double- breasted style.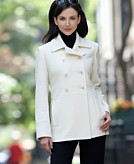 Calvin Klein Wool Pea Coat- Calvin Klein puts a chic spin on the classic pea coat with seaming detail and a sleek fit.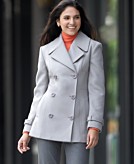 Tahari Military Pea Coat- The classic pea coat that goes anywhere, weekday or weekend.
Nine West Hooded Pea Coat- A chic way to ward off the chill, this hooded pea coat offers both style and function.
Knee-length Wool Coats : The classic knee-length Coats will never go out of style in my books. They're classy, chic and can be dressed up or down whichever you like. It's a must-have! They come in all types belted, single or double breasted, quilted, checked, bright colored….so you choose.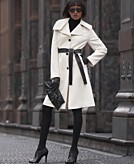 DKNY Wool Coat with Contrast Belt-Make a chic statement with the temperature falls in this sleek wool coat by DKNY.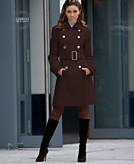 Calvin Klein Double-Breasted Belted Walker Coat- This fabulous wool coat exudes chic style with a wide, mod-inspired belt.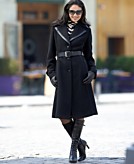 Perry Ellis Textured Belted Coat- Leather trim and a leather belt lend this chic wool coat a luxe touch.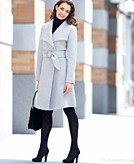 Nine West Wool Belted Coat- A wide lapel lends a chic, updated look to the classic wool coat.
Quilted/ Puffer Coats : Textures are huge this season and what better way to feel warm and cozy other than a quilted coat! Quilted and Puffer coats are definitely the way to go this season. Oversized, belted or colored you pick!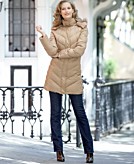 Kenneth Cole Chevron-Quilted Coat- A lightweight quilted jacket with a fitted silhouette.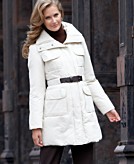 DKNY Down Coat With Leather Belt- Sizzle while facing the chill in this chic puffer coat from DKNY.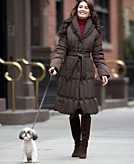 Jones New York Belted Coat With Pillow-Collar- As fashionable as it is cozy, this oversized quilted coat is puffy and warm without sacrificing a flattering fit.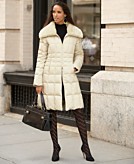 Laundry by Shelli Segal Fur-Collar Down Coat- A wide, plush, detachable fur collar distinguishes this down puffer coat and lets you wear it two chic ways.
Faux-Shearling/ Faux-Fur Coats : Faux coz the real thing just ain't an option for those of us with limited pockets. But with these faux-shearling and fur coats you get the same look and feel of s luxurious coat without feeling the pinch!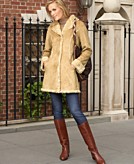 Larry Levine Faux-Shearling Jacket- A fabulous fake by Larry Levine: luxuriously soft and cozy in imitation shearling.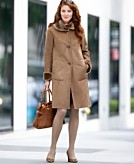 Jones New York Long Faux-Shearling Coat- Get the great look and feel of a shearling with this chic Jones New York coat.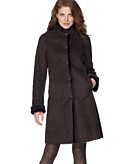 Calvin Klein Faux-Shearling Walker Coat- Stay warm this season in a chic shearling-style coat from Calvin Klein.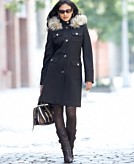 Esprit Snap-Front Coat With Hood- Stylish snap closures lend a chic feel to this hip, faux-fur lined coat.
Trench coats : Now this is something everyone should already have in their closet as an all weather coat….in case your missing one or need a new one……here are some of the newer styles available today.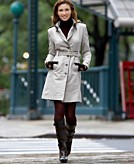 Donatella Belted Trench Coat with Stitch- Rows of stitching and contrast piping lend a unique touch to this single-breasted trench.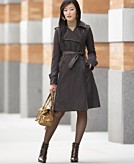 Via Spiga Double-Breasted Leather-Trim Trench Coat- Via Spiga puts a modern spin on the classic trench, with leather trim and a subtle sparkling finish.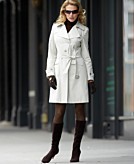 Calvin Klein Trench with Back Pleat Detail- The perfect cover-up for your sophisticated workweek style: a sleek trench from Calvin Klein.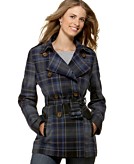 Tommy Hilfiger Tartan Trench Coat- Gear up for fall in this short, plaid trench coat from Tommy Hilfiger.